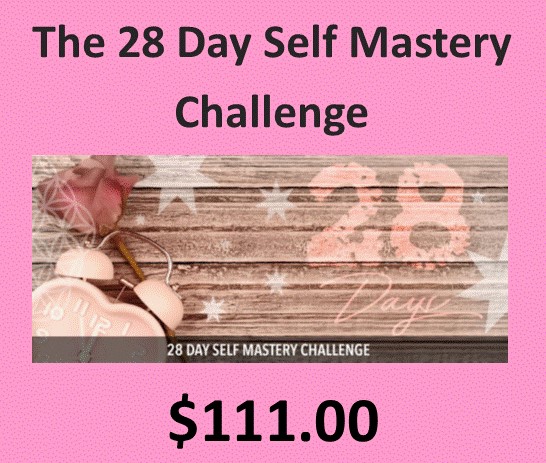 28 Day Self Mastery Challenge
Are you living your best life? Are the relationships in your life happy and connected? If not, are you ready to accept the challenge to start becoming the self-empowered super star you came here to be and live your life with more purpose and soul?
111.00 AUD
Add to Cart
I would love to invite you to join me for the 28-day self-mastery challenge. There is a prize for one lucky participant and it's a ticket to the next upcoming Shift Sanctuary valued at 3330.00. However, everyone will still be a winner just by following the 28 challenge and becoming a self-empowered super star.
There is loads of information I will be sharing with you before and during the challenge, including access to my very popular online, Become More Internally Guided and Self-empowered Workshop, an electronic copy of my The lessons of love and life book, and every day of the 28 day challenge you will be given further inspiration and a challenge to help you learn to commit to your best life with bravery and soul.
The great news is, it's only $111.00 so you would be mad to miss it.
Click on the link below to register and I look forward to seeing you there with all my other self-empowered super stars.
The 28 Day Self Mastery Challenge is starting on 14th of January 2019. Start your 2019 in the best possible space and create the foundations for your best year ever. Register now and get started with the Become More Internally Guided and Self-Empowered Film.
Terms and Conditions for the prize. One ticket to the March Shift Sanctuary starting on March 7th, 2019. 4 nights and 3 days accommodation at the luxurious Casagrande Resort and Day Spa and 3-day Shift Sanctuary Training Workshop. Rooms are dual occupied; the ticket holder may be sharing with a same sex companion. Ticket also includes all food, resort facilities, complimentary massage in the day spa. Transfers and travel to and from the training are not included in the prize. Ticket is for advertised Shift Sanctuary and is not transferrable to others or another date or redeemable for cash or credit. Prize is open to all who register in the 28-day challenge, all names will be placed into the draw and drawn at the end of the challenge via live video link.