Unlock Your Love Code
Unlock Your Love Code and You Unlock a future full of love
Break out of the devastating and soul destroying cycles of relationship disappointments...
It is your god given right to love and to feel loved in this lifetime…
You deserve a loving relationship and you deserve to discover your true essence - the more confident and irresistible you. Unlock Your Love Code will help you transform your relationship experiences from the lessons of life, to a life full of love.
Your love code or relationship profile is the relationship lessons you have chosen to learn in this life time. When you look deeper into your spirit and profile, you will see and understand, why you are attracted to certain people, at the moment, the ones that aren't right for you. You will also gain a much better understanding to why relationships haven't been easy for you.
Your relationship issues and problems are not just random, you are attracting these relationships for a reason. And, unfortunately these lessons will continue to affect your relationships until you release and heal them.
Your unique spiritual soul lessons are your key…to unlocking your heart and freeing your spirit so you can shine from the inside out and attract and be attracted to a man that loves you for being YOU!
And since you're here right now, it probably means you're ready to awaken to your most magnetic and open-hearted self, and you are willing to do what it takes to clear your life of your soul lessons so you can have the love life you so deeply want and deserve.
This is NOT just another law of attraction program, because experience has shown both me and my clients that the law of attraction won't work how you want it to, if your soul lessons are getting in the way. It is your soul lessons that make it impossible for you to keep your feelings and thoughts in alignment with the positive, which is what's required for the law of attraction to work.

Let me reassure you that love is waiting for you, because your relationships up until now, have probably left you feeling a little disheartened, you may be thinking that there are no good ones left or that you must be destined to live your life alone, or even worse, you're thinking you will have to settle for less than you deserve. It is natural to lose your confidence and have this self-doubt when love has continued to elude you…how would I know? Because I have been there too.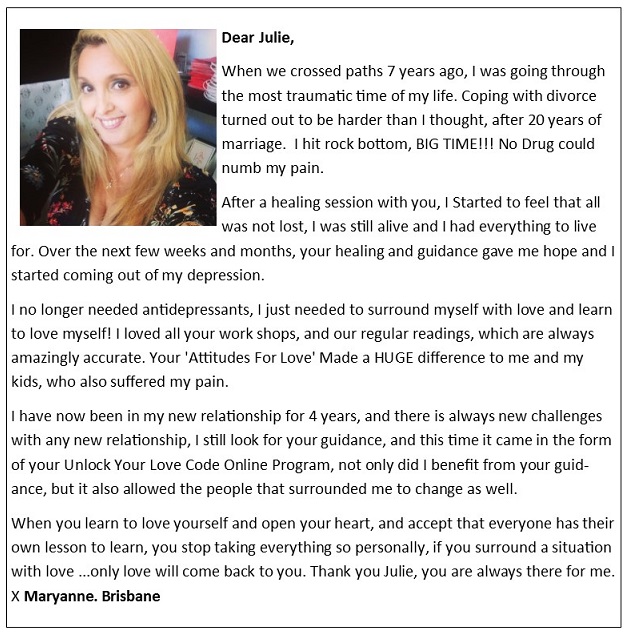 If you don't know me, I am Julie Kay and prior to 2005 my life can only be described as relationship HELL
And it all started with my very first kiss when I was just six years old…Straight after the kiss, I was harshly rejected and ridiculed, which set up a fear of boys, and so I kept my distance. I had no luck with boys in my teens either, I was always getting rejected or left for someone else.
I finally met my first husband in 1997 and we had three beautiful children together. But sadly, my marriage was far from any fairy tale I had imagined. After many ups and downs we separated in 1997, just prior to our 10-year wedding anniversary.
I then spent the next six years of my life being emotionally tortured. I fell in love… was cheated on… got abandoned… and financially ripped off. My insecurities grew deeper and deeper with each betrayal. I went from one relationship disaster into the next… a vicious cycle just kept repeating.
Then in 2005 I finally got my wake-up call: Steve, it was a very instant and powerful attraction, like I had never felt before. By the time I met Steve (on a holiday) I had enough of relationships, and didn't trust men. I was quite happy and content to be on my own… or that's what I told myself anyway. To cut a long… and particular painful story short, Steve also ended up abandoning me in a very slow and cruel way. … And I can't even begin to tell you how devastated I was. It was the worst pain I have ever experienced and any shred of self-worth or self-esteem I had left, was gone.
That relationship changed my life forever. Because, It finally woke me up!
I discovered I was (somehow) responsible for attracting or creating these relationships.
Because it was evident a cycle was being repeated here, over and over again. I could also finally acknowledge that in all these relationship failures there was only one common denominator…ME!
I then spent the next few years healing MYSELF. And I discovered something so amazing it totally changed my life… forever.
I discovered the relationship profiling and a formula that allowed me to heal my toxic relationship with men… and then help other love deserving souls like you, heal their hearts from their lessons, reclaim their self-worth and discover love at last.
From 2005 things changed dramatically for me. I reclaimed my sense of self, and my confidence in life and relationships returned. Then like magic my wonderful husband appeared and I had at last found the ONE.
I know beyond doubt that it is your soul lessons and the emotional habits and behaviors they have created within you that are the foundations of your pain and heartache and the reason you're not getting the love you deserve. If ignored they will continue to sabotage your relationships.
This is why I developed the Unlock Your Love Code online program, because I've seen far too many people with good hearts and good intentions run up against the same obstacles again and again as they try to change their lives and find love.
Firstly you need to identify what your love code is and the lessons that have been keeping love from you. Then you need to learn how to heal these lessons and change any habits and behaviors that sabotage relationships. And lastly how to transform your life, into a life that is full of love.
---
Here is an overview of what you can expect with the program
| | |
| --- | --- |
| Session One | Direction and Introduction to the Sacred Heart Love Solutions Unlock Your Love Code online program. |
| Session Two | Part One...Learn what your true inner purpose is to living the life you are living today. Have you ever felt you are here for a reason? Do you feel that you're searching for something but you can't quite put your finger on what it is? You're not alone it is an instinctual part of you and in part one we understand where this calling is coming from. |
| Session Two | Part Two...In part two we will look at soul attraction and why we attract certain people and not others. What is it that makes someone attractive to you but not somebody else? What draws two people together? In part two we will discover why people really fall in love with each other. |
| Session Three | In this session you will discover your very own specific Love Code, your relationship profile. You will discover what your relationship lessons are, how your soul lessons have been set up in childhood and how they have been affecting your relationships up until now. You will use your workbook along with this knowledge to gain a better understanding to why relationships have been difficult to you and what it is you need to learn and evolve so you don't keep repeating negative soul lesson history. |
| Session Four | In session four we work towards bringing about change by starting to release and heal your soul lessons. Now you have discovered your personal Love Code, it's time to reprogram and remove the old soul blocks your soul lessons have created. Be guided through a powerful 4 step process to self-healing and soul rejuvenation. |
| Session Five | Here in session five we look at how you can enhance your personal growth and your own evolution further. After the self-healing and soul rejuvenation process it's time to review the old habits and behaviors your old self has been stuck in. Identifying and changing these habits and behaviors will help you become your authentic self, the real you, that your lack of self -confidence, self-doubt or self-belief has kept hidden. |
| Session Six | After identifying the habits and behaviours formed by your soul lesson teachings and defining your strategy to change, we look at the steps required to live a happier life and build loving relationships with yourself and others. You may need to work on all of the steps or some of the steps, depending on where you are in your own evolution cycle. When you integrate these steps into your life, you will change old habits and behaviours. |
| Session Seven | In this session we delve into how you are presenting and showing up in relationships through your ego self. If you are not showing up as your authentic self, then you are showing up as your shadow or ego self, and this can be have disastrous consequences in all of your relationships. Once you empower yourself by understanding and redirecting your ego self, you are ready to look at your soul gifts because your ego will no longer sabotage you. We then take a look at your soul gifts, the talents and energy that are part of your journey and purpose for this life time. |
| Session Eight | This session is all about you, and discovering what it is you really want in a relationship. Do you really know what you want in a relationship and what it is you're looking for? Using the information in this session and your workbook, it's time to redefine your life and love on your terms. Going through this process will also stop you from falling into the trap of the Cinderella Syndrome. |
| Session Nine | In session nine we will look at the power of unconditional love—or soul mate love—and discover how you can harness this concept and take your capacity to love to a whole new level. You will also learn how to magnetise your energy and attract through the law of attraction your soul mate lover to you. If you are already in a relationship, you will learn how you can evolve your current relationship into a soul mate relationship. |
| Session Ten | This is the exciting part of the program, because now you are ready to connect to the miracles of love and have your soul mate relationship. This session has two parts. In Part one: Let's date, we look at re building your confidence with dating. In Part two: Happily ever after, we look at the some key areas that loving relationships require to keep your moving forward and evolving into the love life of your dreams. |
---
Here is what you will receive
Online access to this life changing program facilitated by Julie Kay. This program has been designed with each of the 10 sessions leading on from the last to build solid foundations of lasting change that you can easily integrate into your life, so that you can finally have the love life of your dreams.
50 Page PDF Workbook to help you work through this program, when you combine both the power of listening with writing you will integrate and engrain the power of learning more effectively.
6 months access to the private online Unlock Your Love Code Support Group.
ORDER AND START YOUR NEW JOURNEY TO LOVE NOW
$149.00
If you have never come across me before, I completely understand that you may be wary and that's why I offer a 100% money back guarantee, it is my full intention that you and all of my clients find the answers you are looking for and my work is helping those in need. If you go through the program and you are not happy with the teachings then I will refund your money in full. So you have nothing to lose only love to gain...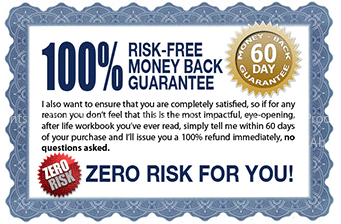 Love Letters I have received...
I've had two longer term relationships in my life, one in my 20's and one in my 30's, however, I haven't had a relationship or dated for the past 5-6 years. I've had more than my fair share of relationship nightmares and immense heartbreak over the years and I kept attracting similar men into my life. I needed to know why and I knew something needed to change and in a huge way. Julie's workshop was what I needed to clarify my relationship lessons and the patterns I was repeating, identify my personal blocks/obstacles regarding relationships, to be aware of what I really want and what's important in my relationship with my soul mate partner, and provided the tools and strategies for me to work through to attract my soul mate relationship into my life. Something needed to change and that something was me! Since doing the program, I have met an amazing man, with a lovely energy, who I feel at ease and comfortable with, share similar values with and he has the qualities that are important to me and I want in a soul mate relationship. I'm in a good place within myself for once in my life, I feel comfortable with whom I am and I love being me, and I'm delighting in getting to know him better and spending time with him. I truly believe in my heart and soul that your workshop made all the difference and has allowed me to be who I am, know what I truly want...What a gift, thank you Julie, everyone needs to do your workshop. Karen Low Gold Coast
Oh Wow! I really understand myself and my husband so much better now. It is very empowering to look at life in this way. I have already seen changes in my marriage and we are definitely finding a much deeper connection again. Thank you and I wish you all the best in helping many more people awaken to this knowledge. Angela Peters Brisbane.
Julie Kay, have you been secretly spying on me all my life? The profiling was me to a tee! I have some changes to make and some healing to do, so I better get back to the program, I just wanted to let you know that so far I am impressed. Thanks Olivia Castle Cairns.